Are you looking for a portable stove that can keep you warm and cook your meals in the great outdoors? Look no further than the Solo Stove Bonfire 2.0! This impressive stove is the perfect addition to any camping trip, backyard party, or outdoor adventure.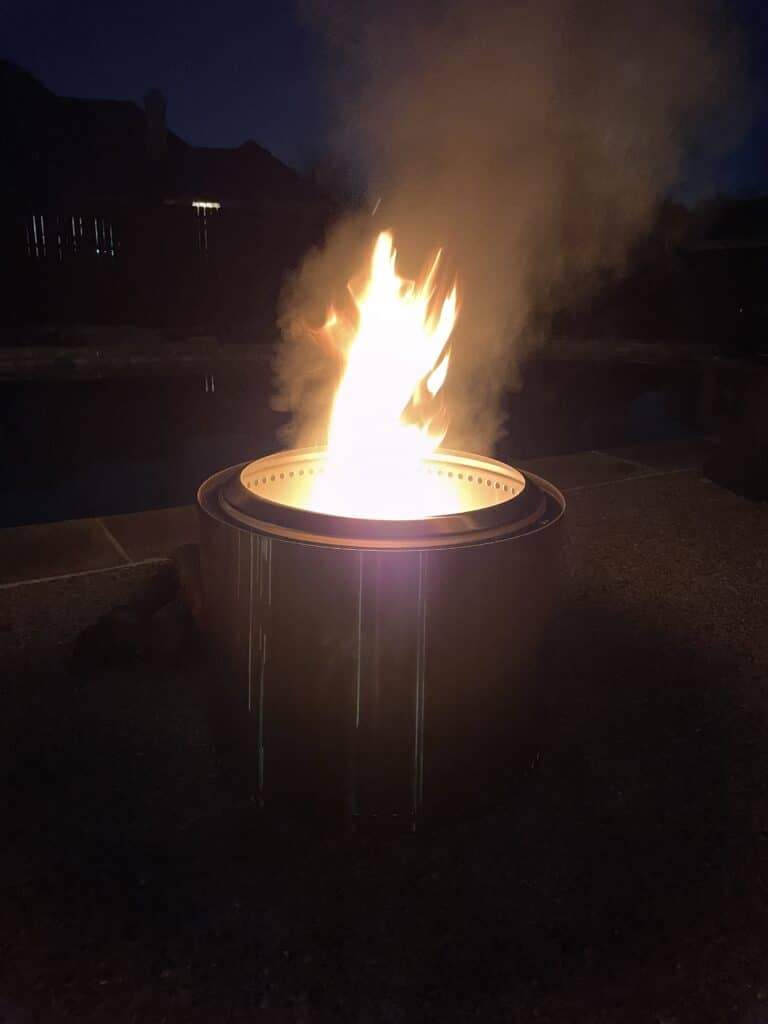 Compared to other camping stoves on the market, the Solo Stove Bonfire 2.0 stands out with its innovative design and advanced features. Its unique airflow system ensures that the fire burns hotter and more efficiently, resulting in less smoke and more heat. Plus, the stainless steel construction is built to last, making it a reliable choice for all your outdoor adventures.
– Page Contains Affiliate Links – Why? (click here to expand)

We lose money every month producing the TX:GX Overland website and YouTube channel. Creating content takes time and money – we have to pay for:

Website and WordPress hosting
Trip videos that cost money for fuel, admissions fees at parks/events, and wear and tear on our vehicle
An enormous amount of our time producing this site and the videos (I won't even begin to calculate that cost!)

Basically, we lose money every month. We use affiliate links and YouTube monetization to try to reduce this monthly loss but they don't pay much. We lose about $20 per month just from our website costs (not including trip costs). Purchases made via this website using affiliate links sometimes result in us making a small commission (usually 2-4%) that we use to keep the lights on. But since we lose about $20 per month (not including trip fees) you can see we are definitely not "in it for the money" – we do this out of a love for helping other people enjoy the outdoors and overlanding, to help people get started and find gear to make their trips more successful, and to produce videos that inspire and entertain our viewers. Even though we lose money each month, we are committed to helping the world we live in. Please read "Who Our Affiliate Links Benefit" to see a list of the causes and charitable organizations we donate to. Thank you for your understanding!
– Who Our Affiliate Links Benefit (click here to expand)

TX:GX Overland is about experiencing the outdoors and doing so in a responsible, sustainable way. Without the trees, the forests, the clean babbling brooks and the open trails we enjoy while overlanding we simply couldn't exist. Therefore, we are committed to helping organizations that support our outdoor adventures. Though we do not make a profit from the TX:GX Overland website or YouTube channel we still make donations to worthwhile causes. We make donations to the following organizations:

OneTreePlanted
Tread Lightly

We have reviewed these organizations and determined they fit our purpose. We do not have the resources to do an exhaustive background check of their prior/current activities, partnerships, board members, etc. so if they are "doing something bad" we're not aware of it. We hope our donations to these organizations is doing the world some good – if you disagree with these choices we respect your decision, please respect ours.
Our Review:
Burns Efficiently – because of the unique air chamber design the Solo stove burns very efficiently. Wood lights quickly and burns almost completely leaving little suit to cleanup afterwards. Unlike a chiminea that spits ash and smoke, the Solo stove produces very little smoke and almost zero flying ash. This is good for those sitting nearby but also adds safety by not spitting burning embers that could cause an external fire.
Less Smoke – because the Solo stove burns more efficiently and at a higher temperature it produces less smoke. That's not to say it is smokeless – it definitely produces some smoke, but it less than most fires. Pro Tip: if your superpower is having smoke chase you around the campfire fear not, Solo smoke with still chase you around the fire, just in smaller amounts.
Heat – the Solo stove lights quickly and burns very efficiently. We found that the double wall stainless construction takes some time to warm up and begin emitting heat. After burning a decent fire for an hour the heat measured 140° on the fire pit exterior and 87° one foot away (ambient temperature was about 60°). We wish the stove produced more external heat especially considering how hot it burns inside the pit.
Construction – the craftsmanship of the Solo stove is unparalleled. The stainless steel parts fit perfectly and provide a nice, modern and rugged look. We keep it outside under a cover and so far the stainless material is not showing any sign of rust. Because it's made entirely of stainless steel it weighs more than some other products.
Carry Bag – our Solo Bonfire 2.0 came with a carrying bag. It's designed to slide over the stove and allow room for a draw string closure on the the other side. We found this design a bit kloogy for a backyard deck application and instead ordered a smaller cover that matches the height of the stove.
Fuel Consumption – because the Solo Bonfire 2.0 burns very efficiently and hot it consumes a significant amount of fuel. Over the course of a three hour burn we placed 5-6 seasoned oak quarter logs in the stove and they were fully consumed. Be prepared with a healthy stockpile of wood if you plan to have an extended fire burn.
Solo Stove Bonfire 2.0 vs Chiminea – the Solo stove is a better option than a chiminea because it burns wood more efficiently, produces less smoke and ash, and is easier to cleanup and transport.
Is the Solo Stove Bonfire 2.0 good for overlanding or camping? The Solo stove is a great wood burning stove. It would be a nice compliment to any campsite where friends want to join around the fire to share stories. That said, the size and weight of this stove may keep some from packing it in the back of the off-road vehicle.
Value – given the build quality, efficiency, style and features the Solo Stove Bonfire 2.0 is a good value for the price. You can also occasionally find them on sale making them an even better deal. They are also a Texas-based company (like us)!
To give you a better idea of how the Solo Stove Bonfire 2.0 compares to other stoves, let's take a look at some specifications:
| | | | | |
| --- | --- | --- | --- | --- |
| Stove | Weight | Dimensions | Fuel | Price |
| Solo Stove Bonfire 2.0 | 20 lbs | 19.5″ x 14″ | Wood | $349.99 |
| BioLite FirePit | 19.8 lbs | 27″ x 13″ | Wood or charcoal | $249.95 |
| Camp Chef Portable Fire Pit | 25 lbs | 15″ x 15″ | Propane | $139.99 |
Other Questions You Might Ask:
Is the solo Bonfire big enough? It's a mid-sized stove capable of producing a fire big enough to warm 4-5 people.
Is the Solo Stove bonfire really smokeless? No, it does produce some smoke, but much less than a typical campfire or chiminea.
What are the cons of the solo stove bonfire? It's weight and size may keep you from packing it up for an overland trip or camping adventure.
Is the solo Bonfire stand worth it? The stand improves the already great airflow and provides some protection from the ground (or deck) underneath. Determine your setup and choose whether it makes sense for you.
What's so special about Solo Stove? Quality stainless steel construction and unique design create a incredibly efficient burning wood stove.
As you can see, the Solo Stove Bonfire 2.0 is a bit heavier and more expensive than some of the other options out there. However, its superior performance and durability make it well worth the investment. Plus, with its wood-burning design, you don't have to worry about running out of fuel or carrying heavy propane tanks.
In conclusion, if you're looking for a high-quality camping stove that can stand up to the elements and provide you with warmth and delicious meals, the Solo Stove Bonfire 2.0 is definitely worth considering. Its innovative design and advanced features make it a top choice among outdoor enthusiasts, and its durable construction ensures that it will last you for many adventures to come!