#lexus #gx #overland #offroad
Scroll down for build sheet!
The Lexus GX 460 Overland Build. Is the Lexus GX good for overland and off road adventures? Why would I choose the Lexus GX for overlanding and offroading? How do you setup a Lexus GX for offroading? I'll answer these questions and give you the exact specs on my rig – hopefully they inspire your own Lexus GX build. If you have any questions – please feel free to ask!
Is the Lexus GX good for overlanding and off road adventures?
In a word, yes! First, it is build on the world proven Land Cruiser platform known for plying the worst roads, mile after mile, without failure. It is common to see Land Cruisers with 300,000+ miles on them due to their incredible build strength and rock solid engine.
Secondly, the Lexus GX comes with many capabilities and options that give it the ability to perform off road including:
All wheel drive (AWD or full-time 4wd)
Downhill Assent Control
Hill Ascent Control
Locking Differential
Crawl Control
Multi Terrain Control
KDSS
A Trac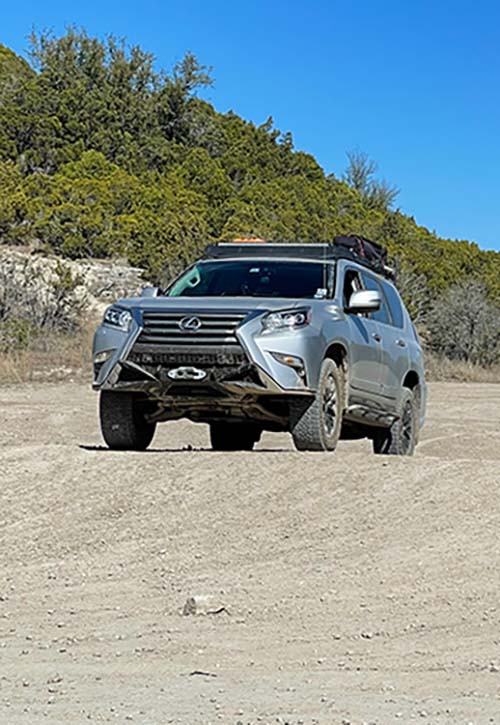 Third, because of the Lexus GX wheelbase, width and powerful V8 engine, the SUV makes an incredibly comfortable highway driving vehicle. Most of us need to drive to get to our overland or off road adventures which means driving many highway miles – so it's nice to have a comfortable highway cruiser capable of sustaining 80+ mph at a reasonable mpg.
Fourth, the aftermarket support for the Lexus GX supports a wide array of vehicle customizations and configurations from wild rock crawling rig to mild daily driver with overland capabilities. While the Lexus GX460 options are "up and coming" the GX470 options are plentiful and many Toyota 4Runner aftermarket options can be used.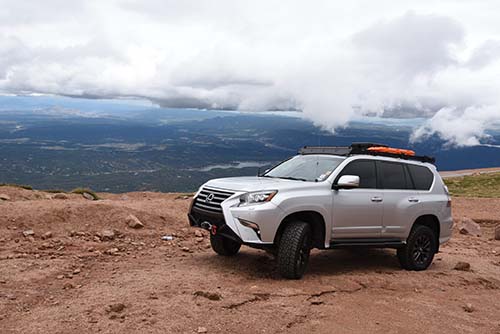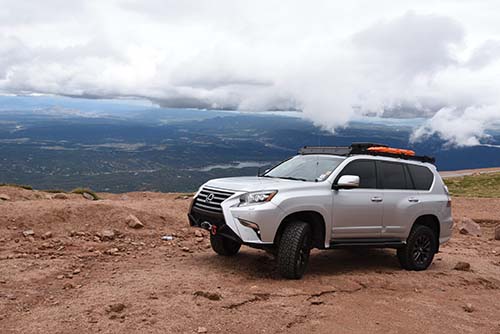 Fifth, while I don't plan to sell my Lexus GX anytime soon the resale value for all Toyotas (and Lexus GX specifically) are known to hold their value over time making them a sensible investment.
In summary, I chose the Lexus GX for off roading and overlanding because it has a proven, reliable platform, off road capabilities, a powerful engine, plently of aftermarket support, holds it value, and provides all the room for my family and their gear.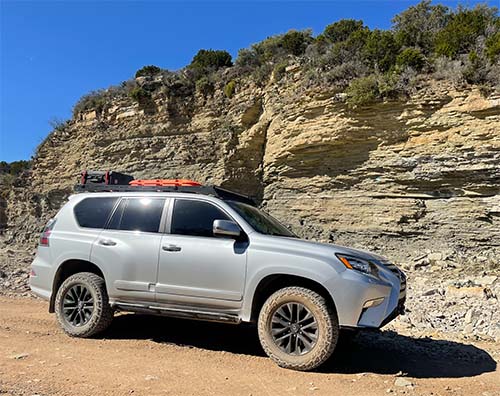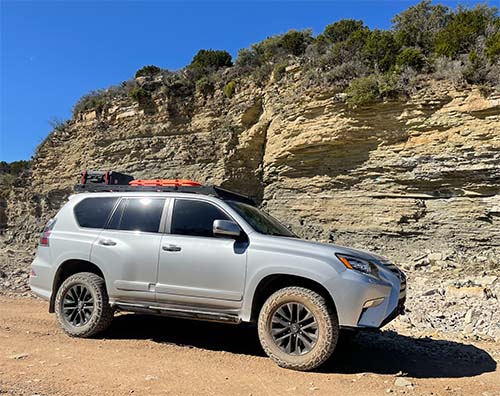 How does the Lexus GX compare to the Jeep Wrangler, Toyota 4Runner, Toyota Tacoma and Land Rover Defender? Click here for a comparison of overland and off road vehicles.
Lexus GX Overland Build Sheet:
Lexus GX Suspension Lift Kit:

(GX Twin Tube Kit – C59-300(1.5" MD), GS59-221, GS59-705, C59-599)
This lift kit resulted in the following height increase at each wheel:

FD: 34.75/36/36.5/36.25 – 1.5
FP: 34.5/35.25/35.5/36.25 – 1.5* (later required a 1/4″ leveling puck due to KDSS lean)
RD: 35.75/37/37.75/37.25 – 1.5
RP: 35.5/36.5/36.75/37 – 1.5

Lexus GX Tires

These tires resulted in 0.5″ in height which when combined with the Dobinsons suspension lift resulted in a total lift of 2″

Rock Sliders –
Skid Plates
Roof Rack –
Light Bar:
Winch:
Rear Bumper Protection
Fender Liners
Overland Communications:
Off Road Traction Matts
Phone/iPad mounts:
Interior USB power ports:
lexus gx 460 lift kits, best lexus gx lift kit, lexus gx lift kit, lifted lexus, gx460 lift kit kdss, lexus gx460 overland concept, lexus gx overland build, lexus gx 460 off road package, lexus gx lifted, lexus gx off road, dobinsons, arb4x4, metaltech, prinsu designs, smittybilt, falken wildpeak, Caliraised LED, Lasfit LED, CBI offroad fab