Which Lexus GX is best for off roading? As the Lexus GX gains popularity for off roading (and overlanding) many are wondering which model is the best for their needs, which is best off road, which provides the best value, and which has the best specs. Below we answer these questions and more.
Which Model Lexus GX Are Best Off Road? There are three disctinct Lexus GX models:
Lexus GX470
The original Lexus GX model debuted in 2003 and remained mostly unchanged until 2010 when a new version was introduced. The GX470 has the same great V8 engine and Prada underpinnings as other GX models.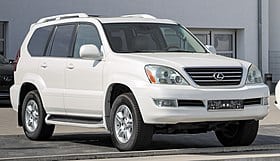 Lexus GX460 (2010 – 2013)
Based on the success of the original model Lexus decided to update the GX with a more modern body style in 2010. It was a more sweeping design versus the original's angular design approach but retained the V8 and Prada underpinnings.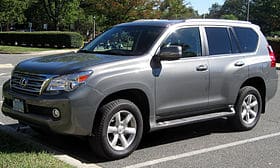 Lexus GX460 (2014-2023)
An evolution rather than revolution, the GX460 in 2014 kept the more swept design but added the maligned Lexus GX grill. It still retained the V8, Prada underpinnings and added a better transmission.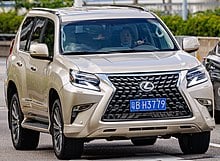 While all three models are great and can be used off road some are better suited for it in stock form. For instance, the GX470 has a very high approach angle to avoid hitting rocks and obstacles. The running boards are easily removable to avoid hanging up on the same obstacles. There's plenty of room for slightly larger tires. Additionally, the GX470 has the highest number of aftermarket customization products available such as off road bumpers, suspension lift kits, roof racks and GX rear tire racks. Since the GX470 is the original model it is more affordable making it an obvious champ for an off road rig.
The GX460 2010-2013 is also a great rig in stock form. It has a similar front bumper with high approach angles. The running boards are easily removed and slightly larger tires can be added. While the GX460 doesn't have the aftermarket support the GX470 has vendors are coming out with new products every year to catch up.
The GX460 2014-2023 is the least capable off road GX in stock form. When Lexus added the aerodynamic front bumper in 2014 it reduced the ground clearance significantly – greatly lowering the approach angle. While it increases MPG its the first thing to get ripped off on the trail.
Since all the Lexus GXs come with similar engine and suspension platforms it largely comes down to how capable they are in stock form, followed by vendor support to take them from mild to wild for more aggressive off road driving. While the GX470 is the clear winner, dont underestimate the GX460 capabilities. With a little customization they too can become highly capable off road rigs (albeit with a higher price).
Check out our comparison of the Lexus GX470 versus the Lexus GX460 off road by visiting our article here.
Lexus GX Overland