Cooking over a campfire is just about as good as it gets! There's something primal about it – the flames licking at raw meat – vegetables popping and sizzling – food coming off the hot grill with a little bit of tasty char. It's one of our greatest pleasures in camping! This great over fire grill and griddle from Camp Chef is one we use personally for cooking steaks on the camp site and even churrasco at home over an outdoor firepit.
Click here to check it out: https://amzn.to/3QLVIxf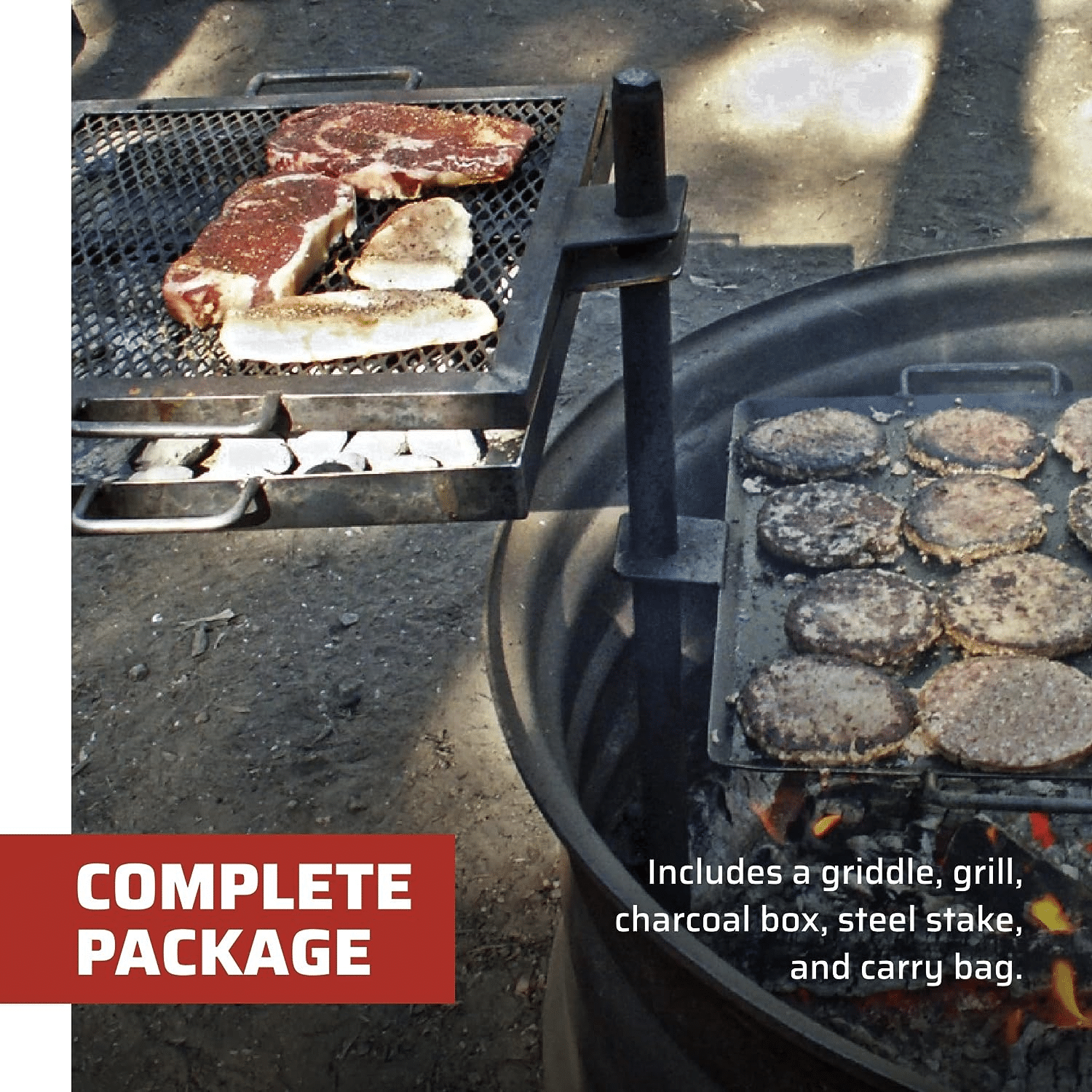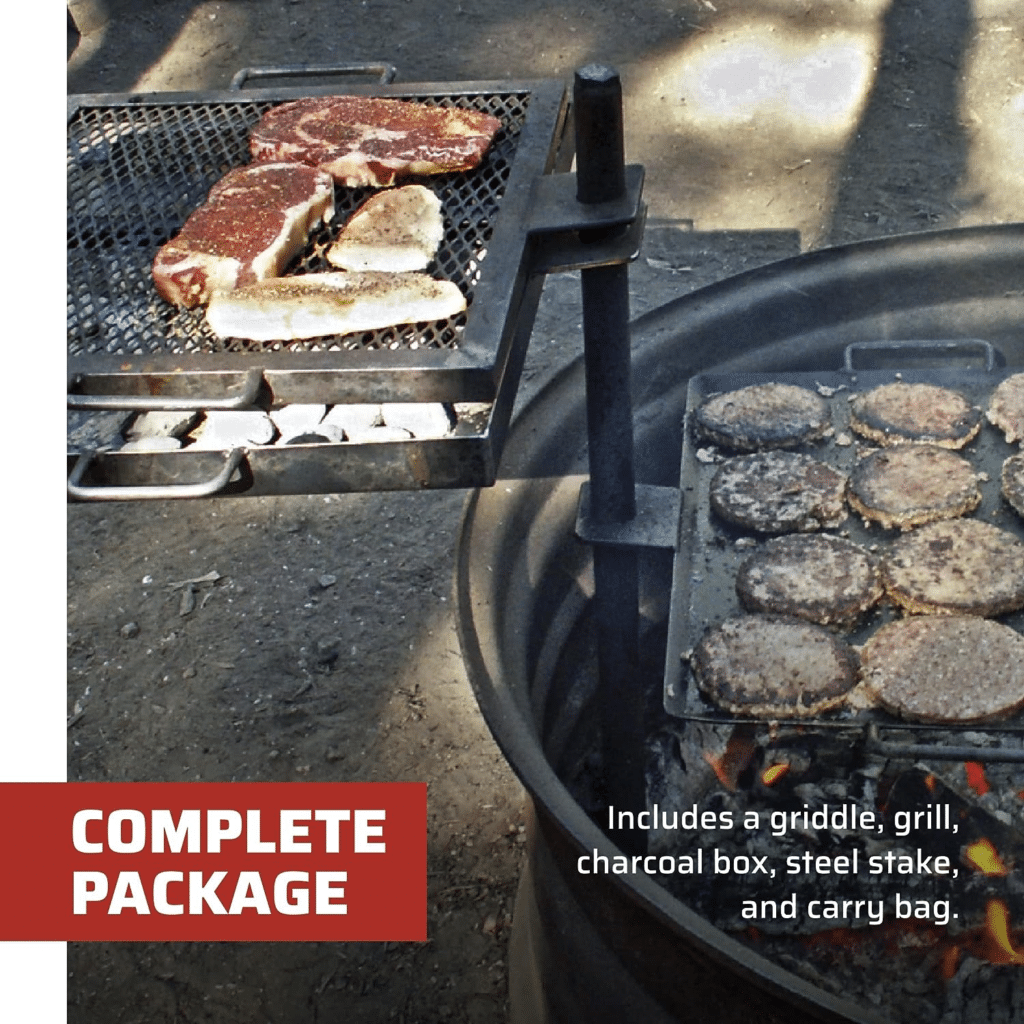 Step into the rugged shoes of mountain men with the Camp Chef Mountain Man Over Fire Grill & Griddle. This ingenious contraption lets you channel your inner pioneer by cooking right over the crackling flames. It's as simple as staking your claim—just hammer that stake into the ground, slide on the griddle, grill, and charcoal box, and voila! You're all set to whip up a feast fit for wilderness royalty. And when your culinary masterpiece reaches its peak of perfection, a swivel of the griddle and grill takes them away from the fiery scene.
Now, here's the part that'll make your taste buds tingle: you're not limited to just one type of fiery companion. This versatile hero can dance with wood, charcoal, or propane, making it your ultimate outdoor cooking sidekick.
But wait, there's more! Unbox this bad boy, and you're practically seconds away from grilling greatness. Crafted from heavy gauge steel, the grill and griddle are like the muscular bodyguards of the outdoor cooking world. And just when you thought it couldn't get any better, it does. The package includes a grill, a griddle, a charcoal box, and a trusty two-piece steel stake. It's like a gourmet party in a box, ready to rock your wilderness cooking escapades!
– Page Contains Affiliate Links – Why? (click here to expand)

We lose money every month producing the TX:GX Overland website and YouTube channel. Creating content takes time and money – we have to pay for:

Website and WordPress hosting
Trip videos that cost money for fuel, admissions fees at parks/events, and wear and tear on our vehicle
An enormous amount of our time producing this site and the videos (I won't even begin to calculate that cost!)

Basically, we lose money every month. We use affiliate links and YouTube monetization to try to reduce this monthly loss but they don't pay much. We lose about $20 per month just from our website costs (not including trip costs). Purchases made via this website using affiliate links sometimes result in us making a small commission (usually 2-4%) that we use to keep the lights on. But since we lose about $20 per month (not including trip fees) you can see we are definitely not "in it for the money" – we do this out of a love for helping other people enjoy the outdoors and overlanding, to help people get started and find gear to make their trips more successful, and to produce videos that inspire and entertain our viewers. Even though we lose money each month, we are committed to helping the world we live in. Please read "Who Our Affiliate Links Benefit" to see a list of the causes and charitable organizations we donate to. Thank you for your understanding!
– Who Our Affiliate Links Benefit (click here to expand)

TX:GX Overland is about experiencing the outdoors and doing so in a responsible, sustainable way. Without the trees, the forests, the clean babbling brooks and the open trails we enjoy while overlanding we simply couldn't exist. Therefore, we are committed to helping organizations that support our outdoor adventures. Though we do not make a profit from the TX:GX Overland website or YouTube channel we still make donations to worthwhile causes. We make donations to the following organizations:

OneTreePlanted
Tread Lightly

We have reviewed these organizations and determined they fit our purpose. We do not have the resources to do an exhaustive background check of their prior/current activities, partnerships, board members, etc. so if they are "doing something bad" we're not aware of it. We hope our donations to these organizations is doing the world some good – if you disagree with these choices we respect your decision, please respect ours.
4×4 Off Road Overland Equipment