Pros:
Powerful yet efficient engine
Comes with Falken Wildpeaks (though not the AT3s you're thinking of)
Tons of electronics – multi-point cameras with offroad trail tire placement indicator, towing modes, terrain select modes, wireless charging, Apple Car Play
Truck-like towing capacity
Large exterior dimensions allow for roomy interior
14" color touchscreen
Toyota safety electronics version 2.5
Cons:
Hybrid engine doesn't have same history of longevity as the Toyota V8 engine
Not AWD or permanent 4WD
Third row seats are not removable and do not lay flat – tough to make a sleeping platform inside
Raised cargo floor to accommodate battery package
Large exterior dimensions make it larger than many off-road trails
If you are looking to compare the Lexus GX460 against the all new 2023 Toyota Sequoia TRD Pro you've come to the right place. We compare the off road specs of both vehicles and show you one clear winner for off road and overland adventures. Is the 2023 Toyota Sequoia good off road? Is the Lexus GX460 better off road?
When Toyota announced that they would no longer sell the Toyota Land Cruiser in the United States it left a hole in the Toyota off-road capable, full size SUV market. Before then, the Land Cruiser (and comparable Lexus LX) offered extremely capable off-road functionality with features like full time four wheel drive, locking center differential and more. While larger than the 4Runner and Lexus GX470 and GX460, they made up for their size with interior luxury and roominess. They also provided a split tailgate that many preferred to the 4Runner lift gate or Lexus GX470 and GX460 barn door. Their engine and reliability were known worldwide as a bulletproof platform.
However, there's still a market for a Toyota full size SUV that is off-road capable. Enter the 2023 Toyota Sequoia TRD Pro to replace the former Land Cruiser. It fills two different segments – people wanting a full size SUV from Toyota, and people wanting the off-road features of the Land Cruiser without forking over six figures for a Lexus LX 600.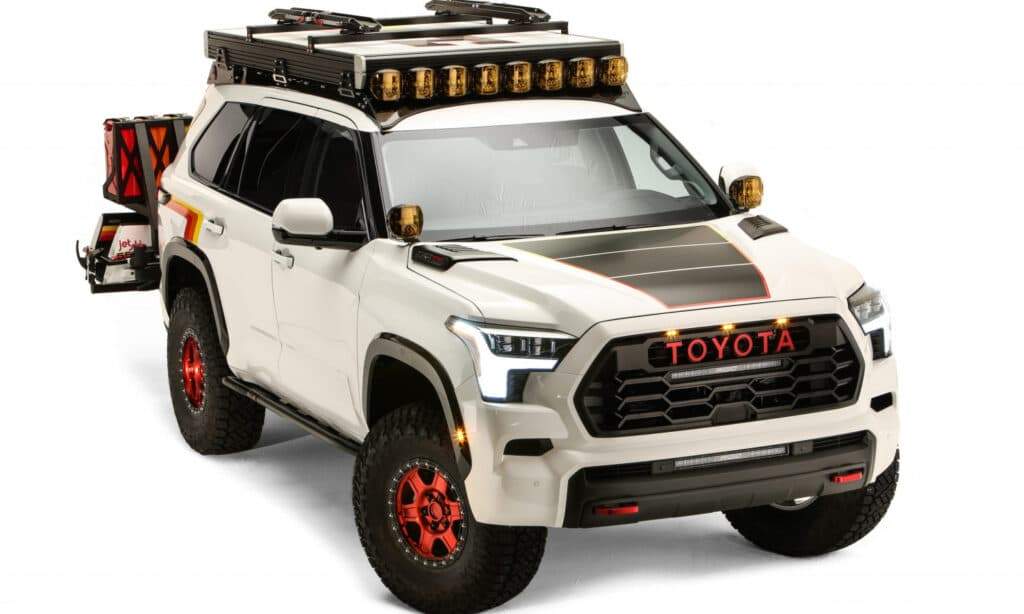 The 2023 Toyota Sequoia TRD Pro offers many off road features such as traction modes with mud, sand, snow, and rock crawling and multi-view cameras with tire placement capabilities. A rear locking differential combined with torquey electric engine power from the hybrid help climb steep inclines. Cool new exterior styling gives it the good looks while flinging mud from the standard 33" Fallen Wildpeaks. It offers better ground clearance of 9.1" (0.8" better than the Lexus GX) on standard 18" wheels. The 2.5" internal Fox bypass shocks keep bumps and bounces under control. 
Unfortunately, the 2023 Toyota Sequoia TRD Pro Off falls short on a few features that experienced off road and overland drivers find useful. For instance, you can only lock the rear differential (no center or front locking differentials). There is no option for permanent four-wheel drive or AWD – rather it comes with a rear wheel drive with selectable four wheel high or four wheel low driving modes. Its large dimensions reduce the approach and departure angles to 23 and 20 degrees respectively (the Lexus GX460 offers 28 degrees approach and 29 degrees departure angles). 
Summary:
The 2023 Toyota Sequoia TRD Pro Off is designed for people (and their families, and dogs, and gear) to have plenty of room, towing capacity, and on-road manners for 95% of their driving while having a few off road features for that 5% of the time they want to venture off road, perhaps onto even some mildly aggresive terrain. The Sequoia is plenty capable for most soft roading but will struggle on Jeep trails due to its large size and lack of serious traction features.
Off Road Specs
| | | |
| --- | --- | --- |
| Offroad Specs | Lexus GX 460 (14-cur) | 2023 Toyota Sequoia |
| Ground Clearance | 8.1 | 9.1 |
| Approach Angle | 21 | 23 |
| Departure Angle | 23 | 20 |
| Breakover | 21 | |
| Wheelbase | 109.8 | 122 |
| Length | 192.1 | 208 |
| Width | 74.2 | 79.6 |
| Height | 74.2 | 77.7 |
| Curb Weight | 5405 | 6150 |
| Towing Capacity | 6500 | 9020 |
Power and Drivetrain
| | | |
| --- | --- | --- |
| Platform | Lexus GX 460 (14-cur) | 2023 Toyota Sequoia |
| Years | 2010 – current | 2023- |
| Engine | 4.6L V8 | 3.5L twin-turbo V6 hybrid |
| Horsepower | 301 | 437.0 |
| Torque | 329 | 583 |
| Drivetrain | Full-time 4WD | 2wd w/ 4wd |
| Locking Ctr Diff | Yes | No |
| Low Gear | Yes | Yes |
| Seating | 7 (3rd row folding) | 7 |
| Doors | 4 + Swing out tailgate | 4 + liftgate |
| Sway Bar Disconnect | No | No |
| Front/Rear Locking Diffs | No | No |
| Rear Gear | | 3.31 |
Off Road Features
| | | |
| --- | --- | --- |
| Options | Lexus GX 460 (14-cur) | 2023 Toyota Sequoia |
| DAC | Y | Y |
| HAC | Y | Y |
| Crawl Control | O | Y |
| Stability | Y (KDSS) | Y |
| A Trac | Y | |
| Terrain Select | O | Y |