When you think of automobiles that are likely to roll 500,000 miles on the odometer you often think of the Toyota Land Cruiser, the Toyota Hilux and well not much more. These vehicles are made to be driven a half million miles with, quite frankly, minimal maintenance. The story goes, Land Cruisers are made to be driven 500,000 miles with an occasional oil change under an African acacia tree.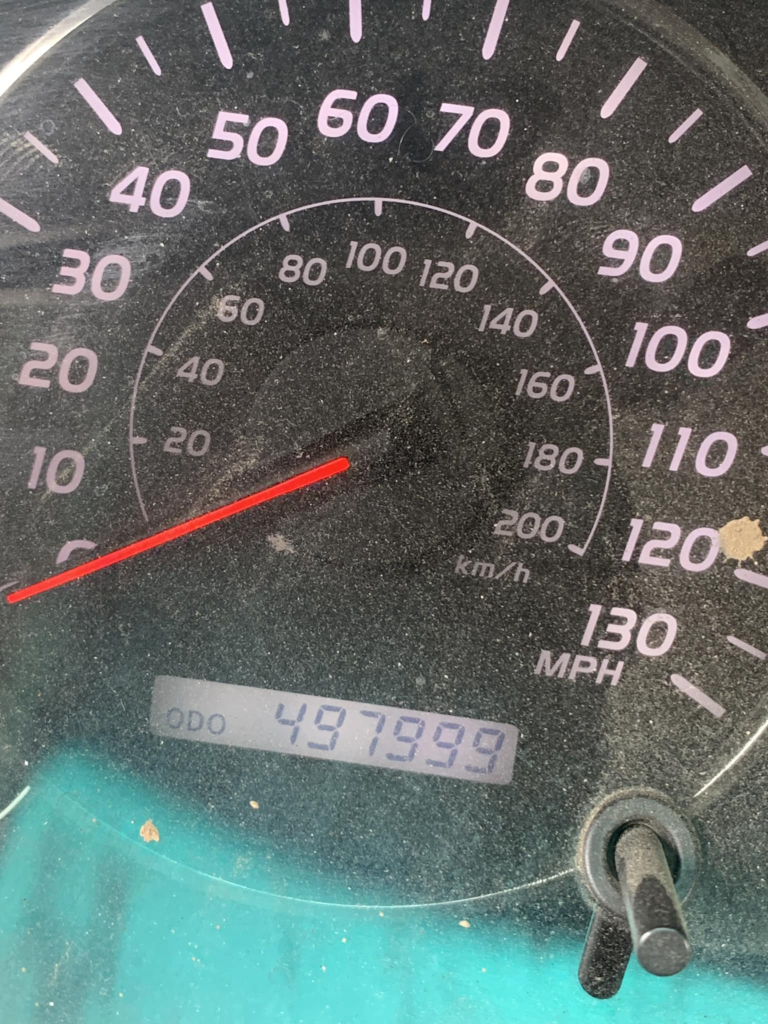 Statistics of the longest running vehicles prove that Toyotas are indeed known for making some of the longest lasting vehicles in the world. 7 of the top 10 vehicles for average longevity are made by Toyota. In addition to the Land Cruiser and Hilux, other Toyota models on the list include the Highlander Hybrid, Avalon, Prius, Tundra and the Sequoia (with more average miles than the Land Cruiser). For reference, the Hilux has the longest average Toyota lifespan at 250,000 – 300,000 miles.
"What I found out was that a lot of people want to do this but it's really intimidating to take that first trip, especially if you're solo."

Derek
When it comes to the Lexus GX (the premium badged version of the Toyota Prado) we've heard theoretically that it can obtain the vaunted half million mark but it's mostly just that – theoretical. Statistics show the Prado has an average lifespan of 200,000 to 300,000 miles. Few examples exist to prove the GX can indeed hit 500,000 miles and stories are typically like a Sasquatch… "I heard 'bout one" (insert grainy, fuzzy picture).
Derek's Lexus GX will soon hit the half million mile mark… and it's a story that all GX owners should find encouraging and promising. It's an actual example of how well-built the GX is, and when treated with proper care and maintenance, can last an incredibly long time.
Derek's GX470 started off humbly. The original owner put 30,000 miles on it. Chad, a co-worker of Derek's, traded in a Toyota 4Runner with 375,000 miles on it and bought the GX putting over 430,000 miles on it transporting testing equipment from one factory to another. It was a pavement princess with zero modifications. Chad put 3 new sets of Goodyear tires on it, multiple sets of brakes (his only complaint of the GX), and of course synthetic oil changes when required.
By the time it reached 460,000 miles Chad had repaired the air ride suspension, bearings, a few minor rust spots and had welded the exhaust. It was in pretty rough shape mechanically but still had the original engine, transmission, and diffs. Chad was ready to put the ol' GX down when Derek offered an alternative. "He traded it to me for a good BBQ lunch." Must have been one helluva a bbq lunch! Derek quipped, "Pretty good spot, Two Scott's BBQ in Michigan." 
Having taken delivery of his well-seasoned and somewhat mechanically-questionable GX, Derek set about making necessary repairs and upgrades to bring the rig back to life. "It was so beat down – to the point it barely ran, so he gave it to me. I'm about $10k into it with parts and labor and pretty close to having it mechanically sound." Derek partnered with Midwest 4×4 for help with repairs and on-going repairs. In addition to mechanical repairs and "a ton of replacement parts," Derek has upgraded the GX for offroad duty:
255/75R17 BFG KO2's on 4Runner wheels
Extended stainless brake lines
GX460 front brakes
Sand dune flag
Rooftop cargo box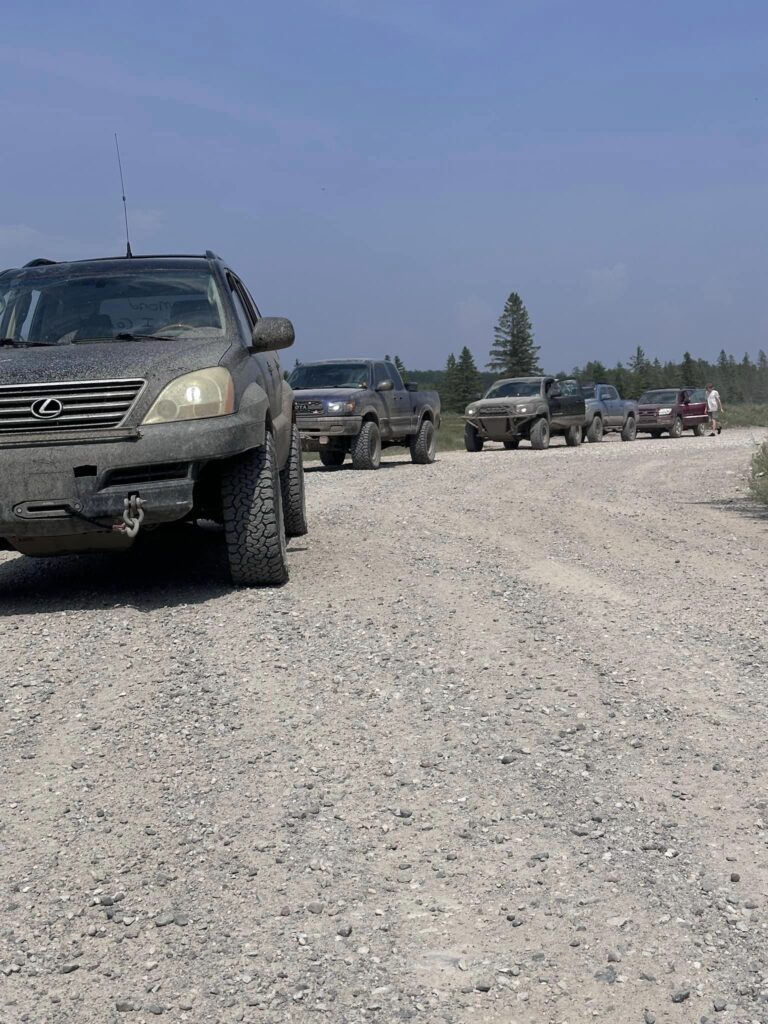 Now that the GX470 is running well, Derek uses it daily for transporting the family. He'd also heard of a local Jeep group doing trail runs and one day decided to tag along. When he showed up he was told "you can follow us but we're not stopping to help you if you get stuck or break down." Put off by their attitude, he looked for a brand agnostic group of off-roaders to help him learn the ropes but didn't find much in his local area. Derek started researching popular trails near him, contacting people who'd driven them to learn more, and then launched off on his own. Trip after trip, he connected with a few strangers who were willing to show him the local trails along the way.
Derek developed a regular crew for trail runs and started planning his own rides that he and his friends would drive on the weekends. From there he started inviting solo riders he frequently ran into who would join him and his friends on their planned trips. As he gained overlanding experience and confidence, he decided to plan an ambitious trip to the Michigan Upper Peninsula. The amazing trails and scenic camping along Lake Superior attracted the attention of local overlanders who began contacting Derek about organizing trips for them. "After we started sharing, more and more people wanted to go. What I found out was that a lot of people want to do this but it's really intimidating to take that first trip, especially if you're solo," which inspired Derek to form Mitten State Tours, a Michigan based guide hosting free weekend trips around the Upper Peninsula and beyond.
Today, Mitten State Tours has grown into an organized group taking regular overland trips throughout Michigan. Derek and Joe (one of the original buddies in the group) are now the organizers, designing their own routes and itineraries, scouting campsites and taking enthusiasts along for the experience. They help new overlanders learn their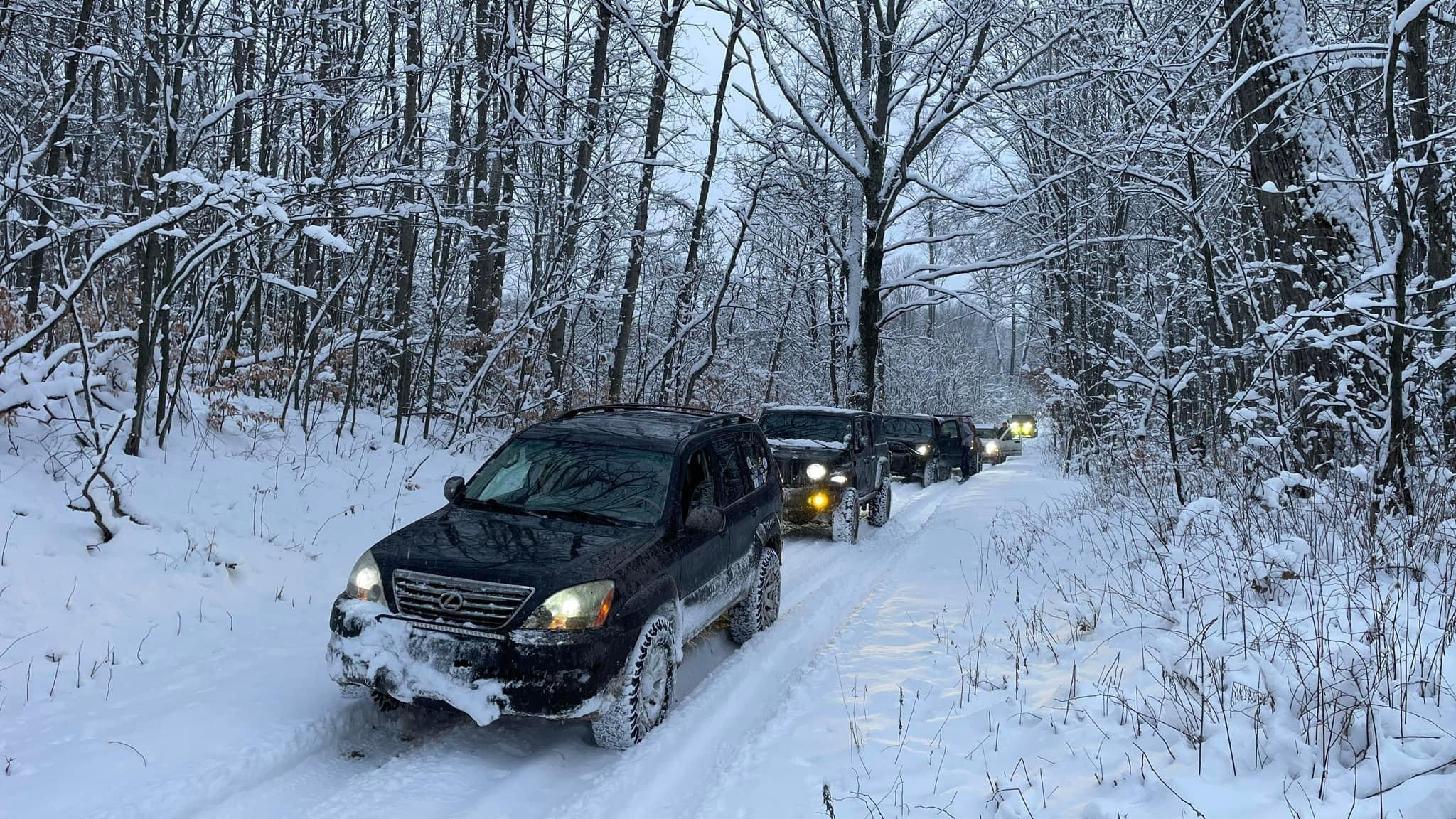 rig's capabilities and what kit to bring to enjoy the trip. The community Derek and others have built has even taken on a life of its own with members self-organizing their own overland trips via the Mitten State Tours Facebook page. "It's [become] a really cool community… that's really positive and welcoming to all experience levels and truck types. The GX has really enabled me to do all that so it's pretty special to me. It's always at the front of the pack leading!" To continue expanding the community, they've recently partnered with local shops to do "rigs and coffee" style meetups and with retailers to do events at nearby offroad destinations like the Silver Lake Dunes.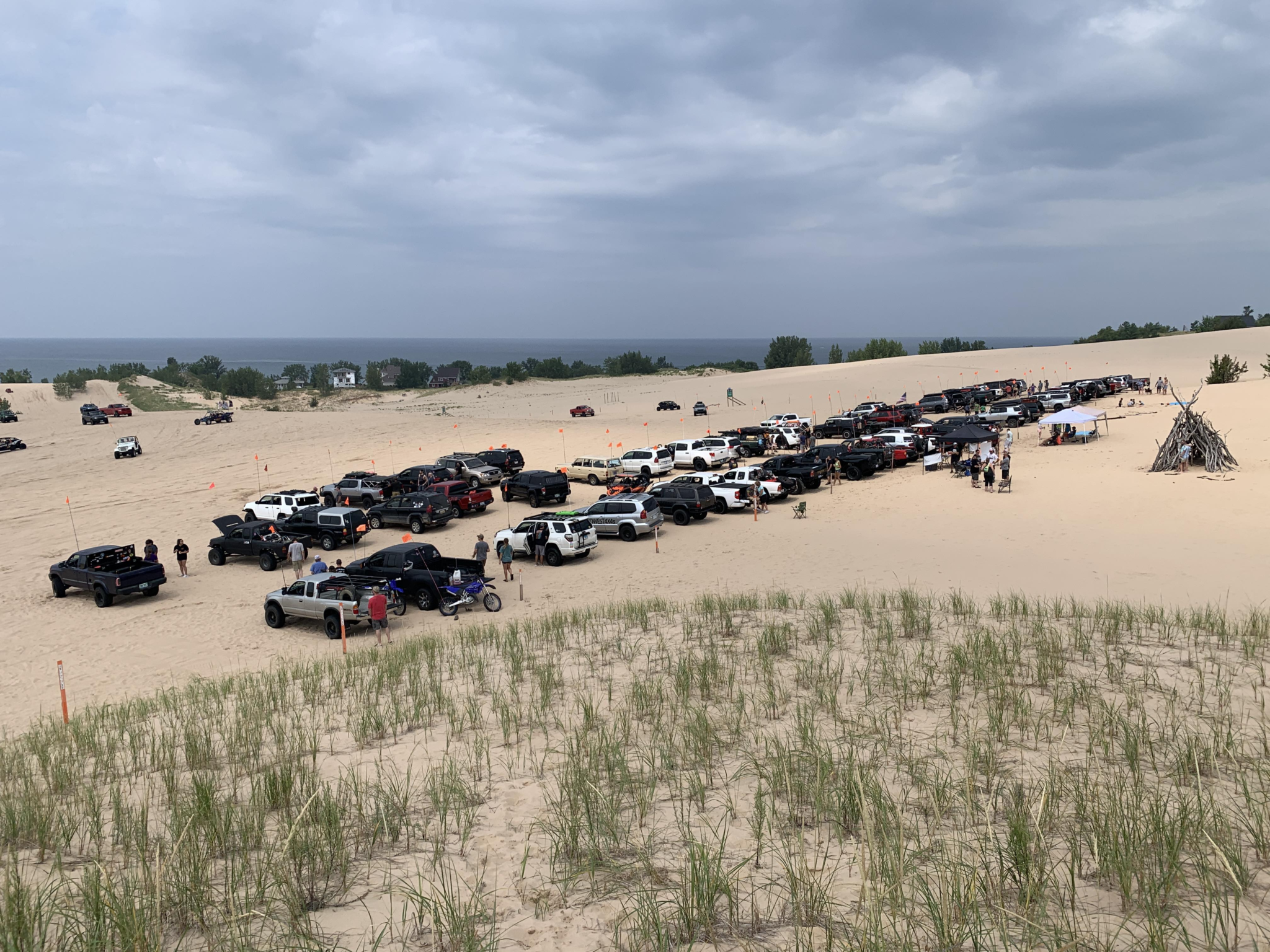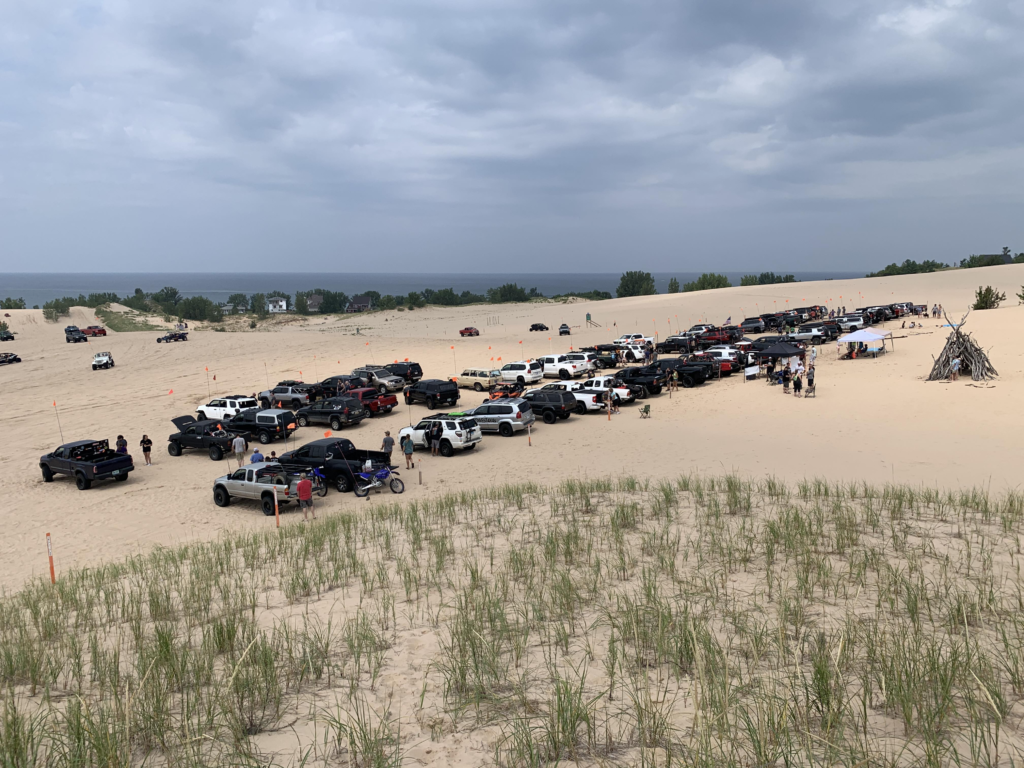 – Page Contains Affiliate Links – Why? (click here to expand)

We lose money every month producing the TX:GX Overland website and YouTube channel. Creating content takes time and money – we have to pay for:

Website and WordPress hosting
Trip videos that cost money for fuel, admissions fees at parks/events, and wear and tear on our vehicle
An enormous amount of our time producing this site and the videos (I won't even begin to calculate that cost!)

Basically, we lose money every month. We use affiliate links and YouTube monetization to try to reduce this monthly loss but they don't pay much. We lose about $20 per month just from our website costs (not including trip costs). Purchases made via this website using affiliate links sometimes result in us making a small commission (usually 2-4%) that we use to keep the lights on. But since we lose about $20 per month (not including trip fees) you can see we are definitely not "in it for the money" – we do this out of a love for helping other people enjoy the outdoors and overlanding, to help people get started and find gear to make their trips more successful, and to produce videos that inspire and entertain our viewers. Even though we lose money each month, we are committed to helping the world we live in. Please read "Who Our Affiliate Links Benefit" to see a list of the causes and charitable organizations we donate to. Thank you for your understanding!
– Who Our Affiliate Links Benefit (click here to expand)

TX:GX Overland is about experiencing the outdoors and doing so in a responsible, sustainable way. Without the trees, the forests, the clean babbling brooks and the open trails we enjoy while overlanding we simply couldn't exist. Therefore, we are committed to helping organizations that support our outdoor adventures. Though we do not make a profit from the TX:GX Overland website or YouTube channel we still make donations to worthwhile causes. We make donations to the following organizations:

OneTreePlanted
Tread Lightly

We have reviewed these organizations and determined they fit our purpose. We do not have the resources to do an exhaustive background check of their prior/current activities, partnerships, board members, etc. so if they are "doing something bad" we're not aware of it. We hope our donations to these organizations is doing the world some good – if you disagree with these choices we respect your decision, please respect ours.
4×4 Off Road Overland Equipment