Introducing the all-new 2024 Lexus GX, a sophisticated utility vehicle that redefines the SUV experience. This beast of a car combines elegance, off-road capability, and luxurious quality to create a truly remarkable driving experience. It's like the James Bond of SUVs, ready to take you on thrilling adventures while still maintaining its classy demeanor.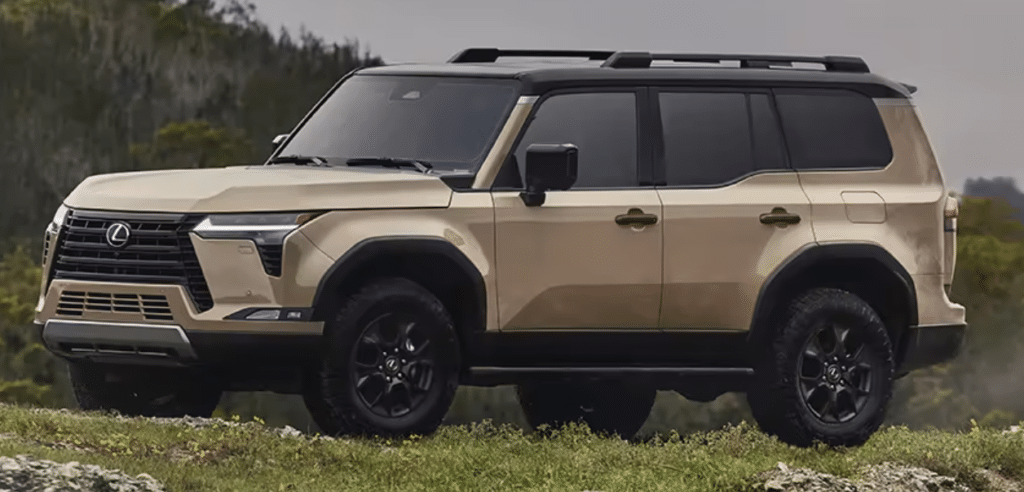 Lexus enthusiasts, get ready to be blown away because the 2024 GX is here to conquer the roads. It's been 20 years since the GX first entered the scene, and it's still rocking the mid-luxury SUV market. With its legendary off-road capability and ability to tackle rough terrains, this car is like a superhero that can effortlessly transition from running errands to exploring remote spaces.
The all-new GX is designed to inspire your wanderlust and encourage you to take the road less traveled. It's the first vehicle to bring the global Lexus "Overtrail Project" to life. This means you can finally satisfy your urge to immerse yourself in nature and embark on thrilling adventures. The 2024 GX builds upon its predecessor's success and offers intuitive technology, thoughtful interior touches, and the same off-road prowess that Lexus drivers have come to expect.
Now let's talk about the design. The GX boasts an aggressive exterior that perfectly blends ruggedness with sophistication. Lexus designers wanted to capture the essence of outdoor experiences, so they crafted a car that looks tough on the outside but is a calming oasis on the inside. With its square-body profile, horizontal design motif, and bold front grille, this car means business. It's like the Hulk in a tuxedo—strong, powerful, and ready to turn heads.
The interior of the 2024 GX is equally impressive. It features a driver-focused cockpit design that allows you to concentrate on the journey ahead. The lower, horizontal instrument panel design creates a clean and open space, seamlessly connecting to the 14-inch multimedia touchscreen display with Lexus Interface technology. And fear not, old-school folks, because physical dials for air conditioning and audio volume are still there, ensuring you don't feel completely lost in the digital world.
When it comes to comfort, the GX doesn't disappoint. With seating for up to seven people, this SUV offers ergonomic improvements that decrease load and improve driving posture. The seats are heated and ventilated, ensuring you stay cozy no matter the weather. And let's not forget about the storage space—a whopping 12 cupholders and extra storage areas make sure you can pack everything you need for your adventures.
Now, let's get to the exciting part—the engine. The 2024 GX comes with a 3.4L twin-turbo V6 engine that produces a whopping 349 horsepower and 479 lb.-ft. of torque. It's a beast on the road, ready to tackle any challenge that comes its way. Plus, it has an impressive towing capacity of up to 8,000 lbs., perfect for hauling your boat, overland trailer, or anything else you need for your epic adventures.
But wait, there's more! Lexus has something special for off-road enthusiasts—the first-ever Overtrail grade. This bad boy comes with standard 33-inch All-Terrain tires, 18-inch wheels, black accented overfenders, and an aluminum skid plate. It's like the off-road version of the GX, built to conquer any trail you throw at it. And with features like Multi-Terrain Select, Crawl Control, and Downhill Assist Control, you'll feel like you have superpowers when navigating rough terrains.
So what do you think? Did Lexus nail it with the 2024 GX550? Will it fit the bill for overlanders while making the majority of drivers (urban soccer mom's) happy driving the Lululemon? Let us know what you think.
– Page Contains Affiliate Links – Why? (click here to expand)

We lose money every month producing the TX:GX Overland website and YouTube channel. Creating content takes time and money – we have to pay for:

Website and WordPress hosting
Trip videos that cost money for fuel, admissions fees at parks/events, and wear and tear on our vehicle
An enormous amount of our time producing this site and the videos (I won't even begin to calculate that cost!)

Basically, we lose money every month. We use affiliate links and YouTube monetization to try to reduce this monthly loss but they don't pay much. We lose about $20 per month just from our website costs (not including trip costs). Purchases made via this website using affiliate links sometimes result in us making a small commission (usually 2-4%) that we use to keep the lights on. But since we lose about $20 per month (not including trip fees) you can see we are definitely not "in it for the money" – we do this out of a love for helping other people enjoy the outdoors and overlanding, to help people get started and find gear to make their trips more successful, and to produce videos that inspire and entertain our viewers. Even though we lose money each month, we are committed to helping the world we live in. Please read "Who Our Affiliate Links Benefit" to see a list of the causes and charitable organizations we donate to. Thank you for your understanding!
– Who Our Affiliate Links Benefit (click here to expand)

TX:GX Overland is about experiencing the outdoors and doing so in a responsible, sustainable way. Without the trees, the forests, the clean babbling brooks and the open trails we enjoy while overlanding we simply couldn't exist. Therefore, we are committed to helping organizations that support our outdoor adventures. Though we do not make a profit from the TX:GX Overland website or YouTube channel we still make donations to worthwhile causes. We make donations to the following organizations:

OneTreePlanted
Tread Lightly

We have reviewed these organizations and determined they fit our purpose. We do not have the resources to do an exhaustive background check of their prior/current activities, partnerships, board members, etc. so if they are "doing something bad" we're not aware of it. We hope our donations to these organizations is doing the world some good – if you disagree with these choices we respect your decision, please respect ours.
4×4 Off Road Overland Equipment