There's nothing better than a hot meal cooked over a fire when you're on the trail. But sometimes you don't have the time or ability to start a wood burning fire, especially if you want a fast hot meal. That's where a product like the HitchFire Forge Hitch Mounted Propane Grill comes in – it's basically a portable propane grill that attaches to your car's hitch.
First of all, can we just appreciate the sheer ingenuity of this thing? I mean, who would have thought to turn their car into a full-on grillin' machine? It's like the ultimate camping and tailgating accessory.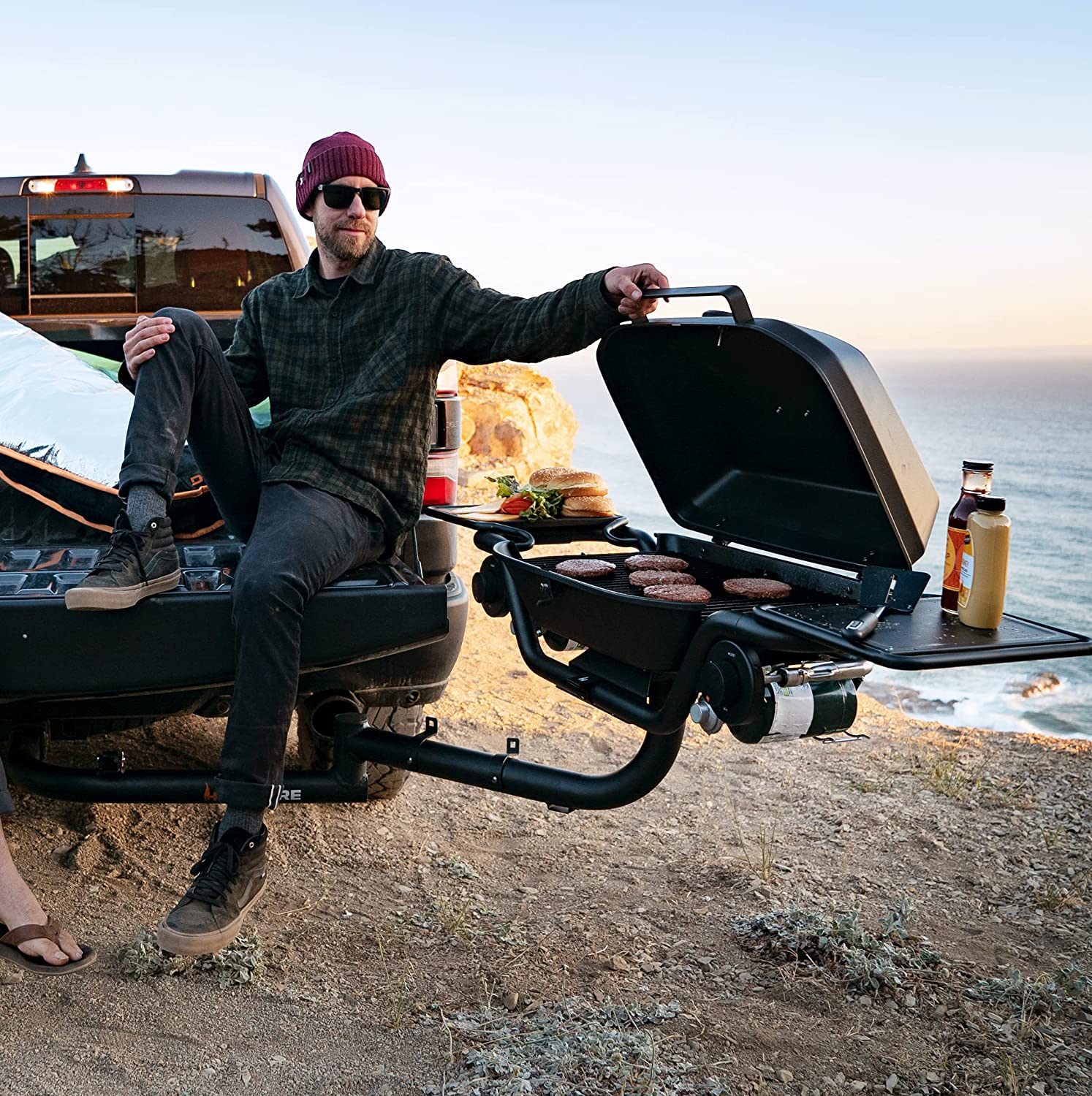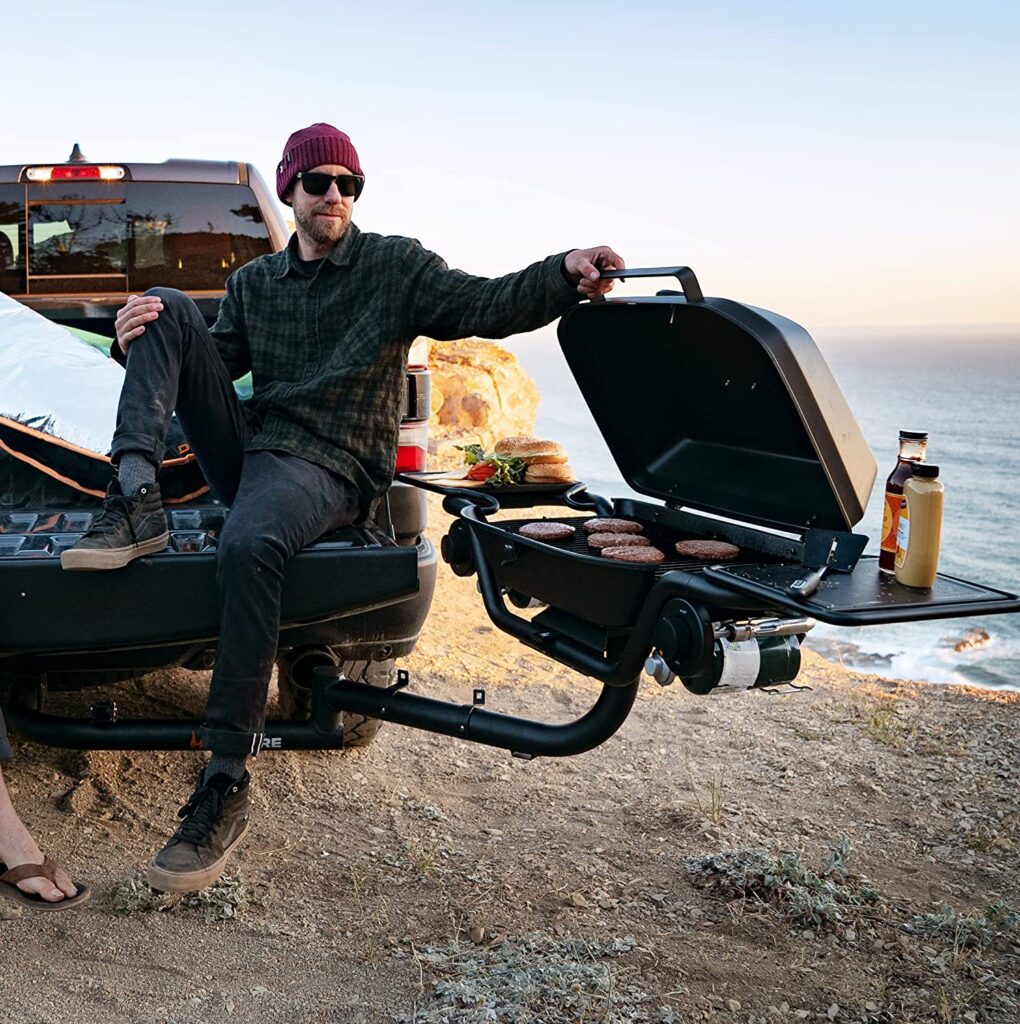 But wait, it gets better. Not only is it convenient and practical, but it's also pretty darn stylish. I mean, just look at that sleek black design. It's like the Batmobile of grills.
And don't worry about sacrificing quality for convenience. This bad boy is made from durable materials and can cook up to 500 degrees Fahrenheit, plenty hot enough to burn your Trader Joe's gyro meat. Because it's propane-fueled, you don't have to mess around with wood, charcoal and lighter fluid.
Overall, if you're someone who loves grilling and loves their car, this product is an absolute no-brainer. Plus, just think of all the jealous looks you'll get from your neighbors when you're grilling up a storm at camp while they're waiting for the wood to catch fire.
Here's how the HitchFire Forge compares with other similar products:
As you can see, the HitchFire Forge is the most expensive option on the list, but it also offers the convenience of being hitch-mounted and propane-fueled. The Blackstone and Kuuma grills are also portable, but they don't attach to your car's hitch. The Weber grill is the most affordable option, but it's also the smallest and uses charcoal. Ultimately, the best option for you will depend on your specific needs and preferences.
Text
– Page Contains Affiliate Links – Why? (click here to expand)

We lose money every month producing the TX:GX Overland website and YouTube channel. Creating content takes time and money – we have to pay for:

Website and WordPress hosting
Trip videos that cost money for fuel, admissions fees at parks/events, and wear and tear on our vehicle
An enormous amount of our time producing this site and the videos (I won't even begin to calculate that cost!)

Basically, we lose money every month. We use affiliate links and YouTube monetization to try to reduce this monthly loss but they don't pay much. We lose about $20 per month just from our website costs (not including trip costs). Purchases made via this website using affiliate links sometimes result in us making a small commission (usually 2-4%) that we use to keep the lights on. But since we lose about $20 per month (not including trip fees) you can see we are definitely not "in it for the money" – we do this out of a love for helping other people enjoy the outdoors and overlanding, to help people get started and find gear to make their trips more successful, and to produce videos that inspire and entertain our viewers. Even though we lose money each month, we are committed to helping the world we live in. Please read "Who Our Affiliate Links Benefit" to see a list of the causes and charitable organizations we donate to. Thank you for your understanding!
– Who Our Affiliate Links Benefit (click here to expand)

TX:GX Overland is about experiencing the outdoors and doing so in a responsible, sustainable way. Without the trees, the forests, the clean babbling brooks and the open trails we enjoy while overlanding we simply couldn't exist. Therefore, we are committed to helping organizations that support our outdoor adventures. Though we do not make a profit from the TX:GX Overland website or YouTube channel we still make donations to worthwhile causes. We make donations to the following organizations:

OneTreePlanted
Tread Lightly

We have reviewed these organizations and determined they fit our purpose. We do not have the resources to do an exhaustive background check of their prior/current activities, partnerships, board members, etc. so if they are "doing something bad" we're not aware of it. We hope our donations to these organizations is doing the world some good – if you disagree with these choices we respect your decision, please respect ours.
4×4 Off Road Overland Equipment